This week
Redraft Hero
is doing a freeroll for a standard league, which means a special edition of Best Buy from yours truly. If you haven't seen them already I normally do a "Best Buy" for IDP contests specifically, you can check them out here (
week 5
,
week 6
,
week 7
) it will give you an idea of how I do things. I won't give you an entire lineup, because I want the winning one all to myself, but I will give you the guy I believe has the chance to help you get the most bang for your buck at each position.
Looking at Week 8 we have some matchup's that could prove to be big time point getters with teams like San Diego facing a porous pass defense at Baltimore and Atlanta at home against a Tampa Bay team that allowed the Redskins to come back from 21-0 and win 31-30. These games are just asking for someone to have a breakout game like Lamar Miller did for the Dolphins against the Texans. So let's jump right in and see if we can find that next player that differentiates you from everyone.
QB-
The QB position is probably the second most important position in your DFS lineup. I believe RB's are still the top because they can rush, catch, and sometimes throw. Looking at this week though I think the QB that will be most beneficial to have in your lineup is
Drew Brees
. I mean the guy has been consistently getting 4,000 plus yards in the air for the past few seasons and is priced at only $6300. That is going to give you a lot of cash to work with for your other positions.
This year Brees has looked terrible at times, but then he makes a few passes and people are reminded of just how lethal he can be when he drops back. This week he goes up against a Giants defense who ranks in the middle of the pack against the pass. and with Brees getting 15.79 fppg, you can bet that average will go up. He should give you enough points to prove his pricing must have been an error, but you were smart enough to take advantage.
RB- If your a fantasy football player you know how important this position is and how quickly it can go from a strength to weakness (Jamaal charles you ruined my fantasy year). Anyway when it comes to picking one for you DFS lineup the good news is if they get hurt you only have them that week. This year though it's been a fun game of what RB will have a big week while the rest just do ehh. Week 7 gave us Lamar Miller and Todd Gurley, who both went for 30+ points.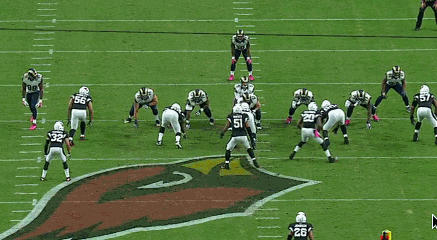 This week I am going with the hot hand and picking up
Todd Gurley
again. Listen, he is coming off a 125 yards rushing and two touchdowns performance and bumped his fppg up to 15.43. He is also cheaper than Chandrick West. Who? Excactly, the backup running back for the Chiefs who has a grand total of 43 rushing attempts this year cost more than the dude who has run the ball 68 times in the past 3 games only and amounted 433 yards in the process. I'll take Todd Gurley for $7200 please Alex.
WR-
I'm not going to lie this is the position that for me is the hardest to figure out. This past weekend I had Larry Fitzgerald, Julian Edelman, and Keenan Allen in my lineup and they all simply sucked. At least for their standards and what they were priced at in contests. This week though, I plan on getting a WR that will have a big game for your sake and for mine. This week I am going with a rookie wideout that has proven he is on the path to stardom.
Amari Cooper
from Oakland is priced like he is on a clearance sale. I don't know who is doing the pricing, but Cooper is only $5300 and averaging 11.35 fppg.
The Oakland pass offense is usually consistent with spreading the ball around and Cooper is clearly the top dog for the wideout spot. As the year goes on I expect him and Carr to develop and show flashes of what fans can expect in the years to come. Even against a tough Jets pass defense I think Cooper will still put up 6-7 catches and 80+ yards and potential for a TD. I don't think the Jets will feel the need to have Cooper play on Revis Island the whole game and that's what I am banking on in picking him up for one of my three WR spots.
TE-
Is it just me or does it seem like there are only two viable options at TE that we know will put up big numbers every week? Just me alright, well we know Gronkowski is one and the second is Antonio Gates when healthy and not suspended. Now, before you start saying what about Kelce, Barnidge, or Graham? Obviously, if your asking what about Graham you haven't watched a single Seahawks game this year. Those guys have all had great weeks, but none have put together anything consistently for four or five weeks of top TE play. That's why I am going with the tried and true
Rob Gronkowski
.
I get it, this is the "best buy", I'm suppose to give a cheaper option to utilize extra cash to use on the bigger names, well I am because Gronk is only the second highest priced TE. He will cost $8100, but anytime he isn't over $9000 I am taking him without hesitation because when your TE can average 14.88 fppg your going to want that guy on your team.
Def-
Figuring out what defense to take is like eating a box of chocolates, you never know what you gonna get, and while Forest Gump's mother was no fantasy Guru her point stands true here. Each week we try and figure out a defense that we think will do well, but most times we are completely wrong. That's why my guess for this week is the
Bengals defense
going up against the Steelers.
The reason being the AFC North division games are always smash mouth style and low scoring and I expect this to be no different. If Big Ben doesn't start I especially feel good about this pick and they will cost you only $4600. Overall, the Bengals have been a decent defense averaging 6.7 fppg and I think they will match that at least this weekend.
K-
The kicker spot, as we all know if you play fantasy football they are usually the last pick and most people tend to drop their kicker and pick up another at random. That's because we view kickers as the same. They will get you a FG or two a game plus some extra point attempts. The guy I think will get that extra FG this weekend and could make the difference for your team is
Phil Dawson
from the 49ers. He is $5000, averaging 6.14 fppg, and playing in a dome, which usually helps kickers out. The 49ers offense also hasn't been able to punch in many touchdowns and that makes me think Dawson is in line for a decent game.
In total my best buy choices will cost you $36,500 and leave you with $23, 500 to fill in three more spots. You don't have to say it, but your welcome.
That's my stance, let me know yours.
Also if you haven't signed up yet make sure to check out Redraft Hero's free roll by clicking this link:
http://redrafthero.com/contestdetails?contestid=450