Ok,
last week
I had three out of the five "Best Buys" at least get 6 points or more, but I must apologize for Cary Williams who put up a goose egg against the Pittsburgh Steelers. I truly thought he was going to have a great game against a crop of top wide receivers. He didn't so its time to try again and look ahead to week 13 in the NFL.
There is only one undefeated team left in the league and it's not the one you would expect, the Carolina Panthers are the last team standing at 11-0 after the Patriots fell to the Broncos in OT. Of course, most Patriot fans claimed it was a conspiracy by the NFL and the refs, but while there were some questionable calls the Broncos just had a little more offensive power than the ailing Pats.
This week though the Broncos shouldn't need overtime against a struggling San Diego team, while the Patriots face an Eagles squad that has been in disarray, but has a good defensive line that could give Tom Brady issues with him potentially being without Edelman, Amendola, and Gronkowski. That game is where we start this week with out "Best Buys" so let's take a look....
DE:
Oh how the mighty have fallen,
Fletcher Cox
was an IDP Hero only a few weeks ago after posting a 27.5 point game. Since then he has had 3 games of more than 7 points and 3 of under 2.5 points. Nothing outstanding, especially for a guy most in the Eagles organization had high hopes for this year. This week though, he faces an offensive line that has been playing musical chairs all season long and still doesn't have stability. The biggest advantage Cox will have though is the fact that Tom Brady will be without his top three receivers more than likely, which means trying to find a target and taking more time in the pocket. I expect to see a lot of Fletcher in the backfield this weekend and at $4500, while averaging 7.18 fppg he is a steal.
DT:
The Dallas Cowboys have lost Tony Romo for the rest of the season after he suffered a re-fracture of his collarbone that kept him out from week 3-10. What is bad news for him and Jerry's Cowboys is good news for teams like the Washington Redskins who are looking to put the Cowboys away and give them no hope in the NFC East. Someone that can help in making sure Dallas and their offense stay stagnant is
Chris Baker
. He may not be a prolific scorer, but he has been putting up an average of 6.65 fppg and at the cost of $5900 he isn't priced to badly for a top five DT in the scoring category. Expect him to chase down Matt Cassell and stuff Darren McFadden all day on Sunday.
LB:
The Patriots as I mentioned earlier have been dealing with a lot of injuries on the offensive side of the ball, but one major injury on the defensive side has been the absence of linebacker
Jamie Collins
. He has missed the last four games due to an illness, but it appears he will finally return to the field this weekend. Collins has been a force in the linebacker core for the Patriots and his absence has been felt, especially with Donta'e Hightower getting injured against the Broncos. Well he is coming back for the friendly price of $4500, but your getting a guy averaging 9.91 fppg, which is good enough to be in the top 10 for linebackers. Also let's not forget he can get you points by doing this:
CB:
Last week I went with Cary Williams and that turned out horribly with him putting up a goose egg against the Steelers. It was not pretty and the Seahawks secondary gave up a whopping 456 yards in the air. This week I am going to go with someone that is somewhat more reliable and has been shutting down top recievers for teams since Week 1.
Josh Norman
is a bad man and shut down Dez Bryant and then told Dallas to get their money back. You gotta love a guy like that, right? Well I do and this week he takes on a New Orleans Saints offense that has been struggling, but still loves to pass and no team has shied away from Norman so why would they start now. Priced at $4900 and averaging 8 fppg, Norman should have another great week and maybe pick of Drew Brees again like in the earlier matchup this season.
S:
The Seahawks had a bad week against the Steelers defensively, sure the team came away with the win, but it was finally shown that the L.O.B was done. They haven't been the same since last year and it's hard to explain with the majority of the defense still intact. This week though I am taking the chance on
Kam Chancellor
he has been a solid safety play since ending his holdout in week 3 by averaging 7.11 fppg. This week Seattle takes on Minnesota and they will want to make a statement defensively, they will look to their emotional leader and I think Kam steps it up and costing you only $5600 you should believe he will as well.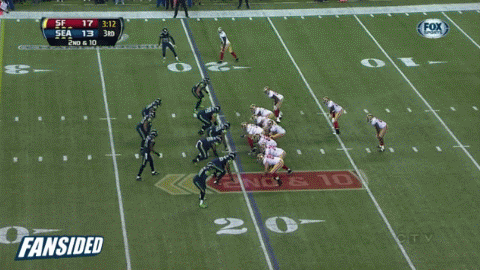 That is my stance, let me know yours....
Make sure to check out
Redraft Hero
and their IDP contests this week and see if you have what it takes to make the ultimate defensive squad.