Yahoo
-
Two weeks before the NBA trade deadline, a rival player called Lou Williams. The Houston Rockets' James Harden watched Williams flourish this season, helping lead the perennial All-Star's hometown Los Angeles Lakers to a strong start, and he had an idea to pitch.
"When James called, he asked me if I was interested in playing with them," Williams told The Vertical. "I told him that I loved the Lakers, but James and them have a group that fit my personality, fit how I play. He said he was going to make it happen."
Williams then laughed, sitting on the edge of a visiting court following a recent practice. "I've heard that before, so I didn't really put stock into it," Williams told The Vertical. "I guess James did put the word in, and the team made it happen."
The Rockets have been a surprise this year. A team that wen't from barely squeaking into the playoffs last year, to the #3 seed this year. It mainly has to do with the emergence of James Harden's game. Yeah the guy has been a scoring stud the past few years, but he has stepped up his assist and rebounding game this season. Defense is a different story.
Harden has also apparently become quite the GM in Houston, basically orchestrating the Lou Williams trade at the deadline. He went all LeBron on the front office after already calling Lou and telling him that as long as he's cool playing in Houston that Harden is pulling the trigger. Triggered was pulled and Williams is now doing his 6th man role for the Rockets. What's even crazier is Houston already had the other top contender for 6th man of the year in 3-pt champ Eric Gordon.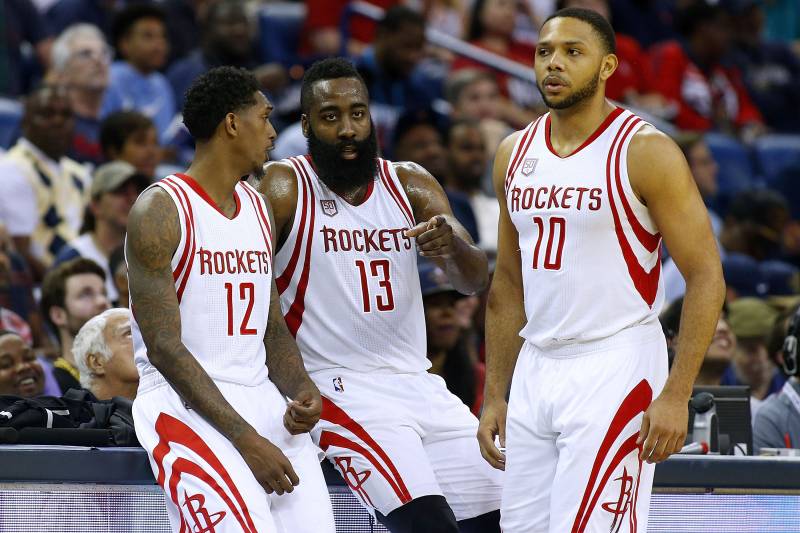 I just can't imagine how that conversation went, but I'll give it a try:
*Harden Enters GM Office*
Harden- "I just called Lou Williams and told him we're trading for him."
GM-" James you don't have that power"
Harden- "I promise to play some defense, and besides I already told him we would"
GM-" James what have I said about telling other players we'll trade for them?"
Harden- "That it's wrong and I shouldn't get their hopes up because sometimes it doesn't work and it makes you look like the bad guy."
GM- "Thats right, but I just talked to Lou's GM Magic and he said it's alright. Lou will be here tomorrow."
Harden- "Really!?!?! Oh man your the best, I'm gonna go tell the guys!"
At least that's how I imagine it actually went. The move has made the Rockets even harder to beat on nights they heat up from beyond the arc and makes me hope that the Spurs grab the #1 seed, because I really want to see a Warriors v. Rockets matchup just not in the Western Conference Finals. If you also made it to this point, congrats your reward is James Harden getting his ankles broken by a Nigerian Guy....