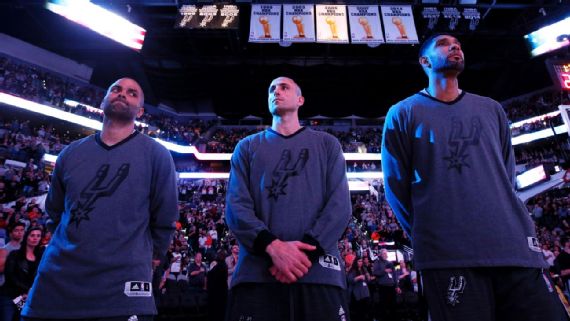 Courtesy:ESPN
Last night's Spurs v. Thunder game was hard to watch, not just because the Thunder dominated the game basically from the tip, but because we may have seen the end of an era in San Antonio. The Original Big 3 may be splitting up, the band may no longer be together entering next season. Tim Duncan and Manu Ginobili have player option that both may choose not to exercise and instead walk into the Texas sunset on two outstanding careers.
The bigger of the two would be Duncan, after 18 years of consistency it seems father time has caught up to his son. The joke has always been that Duncan looks the same now as he did when he entered the league. It finally appears that is no longer the case, he has more gray hair than before and he isn't as fleet of foot as he once was even five years ago. We may have seen the last of Timmy D, and unlike Kobe, he will be perfectly fine leaving the game with nothing more than a press release stating it.
Ginobili is the same way, he has played a vital role since this trio got together in 02-03 season. He has been the gnat for this team for so long. You know the guy, he bothers the other teams and no matter what they do he just keeps coming back. It's always been that way, he is dramatic, a flopper, a circus shot maker, and a spark off the bench teams wish they could have had. That won't be easy to replace, but if it comes to it the Spurs will replace both of these guys because they always have.
Sports Illustrated Shows the Spurs Future
The Spurs will be fine if two thirds of the Big 3 retire, because they have two young superstars that have shown the capability to bring another championship back to San Antonio. LaMarcus Aldridge and Kawhi Leonard are the future and whether it starts next year or not won't matter. It's just going to be odd saying goodbye to a group of guys that have been together since I was 12 and I'm not even a Spurs fan....