The Boston Red Sox have a storied history and by now you have heard that they made some more within the last day by signing
David Price
to the most expensive contract ever for a pitcher. The numbers come down to 7 years/ $217 million dollars or $31 million a year. He is now the highest paid pitcher in MLB history, of course it will probably be short lived once Zach Greinke ends up signing his deal, but still impressive. Price comes with the tag of ace (see what I did there) and the only knock against him is his abysmal postseason record of 2-7 with a 5.12 ERA. Sox fans don't think of Price and his time as a starter in the postseason, we just remember how he dominated us in the '08 ALCS.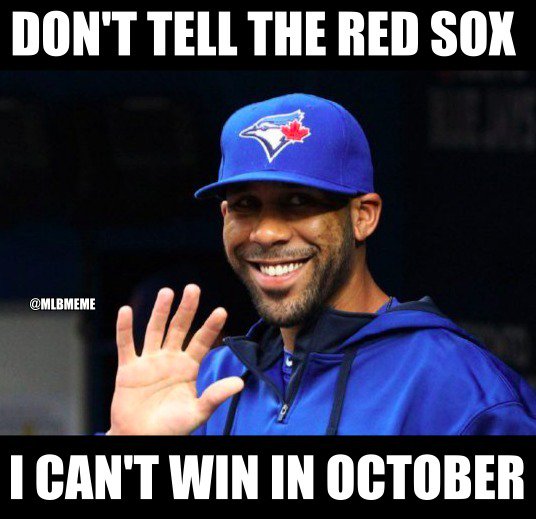 The Red Sox have faith that Price can turn his postseason issues around if and when Boston returns to the playoffs. The Sox have always had an ace who steps up in October, whether it was Pedro, Schilling, Beckett, or Lester. Speaking of Lester many are going to wonder why did the front office decide to go all in on Price and not the hometown hero Lester, who by all means was a dominant no.1 for awhile in beantown. Well there are two reasons, the first being, a pitcher of Price's caliber don't come along very often. What I mean is if you compare the numbers of Price and Lester they break down like this:
Price's numbers are on top compared to Lester on the bottom and don't forget Lester has been in the league 3 years longer. Price already has more complete games and these stats just show an idea of how much more dominant he has been. Let's not forget the fact that no one stole a base on Price all year in 2015, while Lester can't even make a pickoff properly. Yes, I know he ended up finally picking a guy off, but still it was a big enough issue that ESPN followed it to see how many innings he could go without making an attempt at all.
The second reason is the fact that, by not signing Lester last year the Red Sox and fans got to see what it was like not having a true ace. It was terrible, I mean Rick Porcello was considered the No.1 going into the season and by the end I don't know who was our No.1 or No.2 even. They had to make a move this off season and even if they overpaid for Price they needed to get a stud in the rotation. Plain and simple that is the second and probably the more important reason they Sox made this move. Overall, I think the Red Sox made a good deal that hopefully for everyone's sake pans out.
This team now goes from a last place finisher in the AL East too the second best team in the division behind the Toronto Blue Jays. I mean let's face it with the offensive power the Blue Jays have, the Sox had no choice, but to go out and get someone that can shut them down for the first 8 innings of the game and allow the other recent acquisition of
Craig Kimbrel
to finish everyone off in the ninth. I am excited as a Red Sox fan personally to see the how this team and Dave Dombrowski finish off this already busy off-season.