The Pittsburgh Steelers won yesterday 12-6 over the St. Louis Rams. On most days Steelers fans would be happy that the defense finally showed up when the offense clearly struggled even with the return of star running back Le'Veon Bell.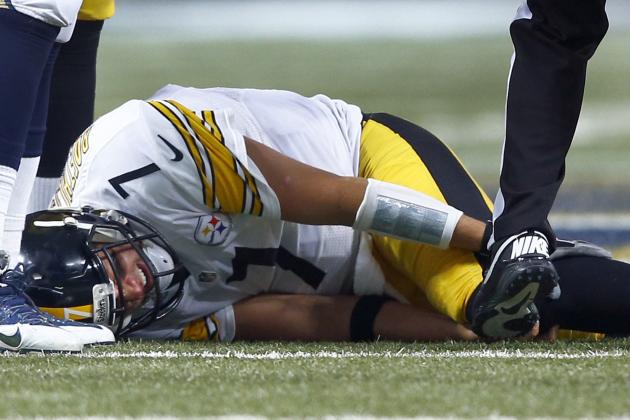 Instead Steeler Nation collectively held their breath as they saw franchise QB Ben Roethlisberger tumble awkwardly to the ground and grab his knee. Of course, the first thought in everyone's head whether they watched the game or heard the news through twitter was that Big Ben tore his ACL and was done for the year. The Steelers would do the best they could but ultimately would go nowhere without one part of their three headed offensive monster.
Luckily the news is that it's an MCL sprain and that the team expects Roethlisberger back in 4-6 weeks. In the meantime it will be Michael Vick at the helm for the offense and unlike other teams in the NFL I think the Steelers backup situation is pretty good. Vick was once a premiere starter with great success and even after being away from the game for a few years (2007-2009) he came back and proved he was still a QB to be feared. I think the Steelers will struggle but think they could go at least .500 in the next 6 games. Look at their schedule and my predictions:
Ravens:
Win
(20-13)
Chargers:
Win
(23-20)
Cardinals:
Loss
(35-17)
Chiefs:
Loss
(20-9)
Bengals:
Loss
(24-17)
Raiders:
Win
(28-24)
Overall when Big Ben comes back it will be with a team that has a 5-4 record. If anything that keeps them in the wild card hunt since right now the Bengals look like the clear favorite in the AFC North. If he comes back fully healthy then the Steelers may be able to make a late push for the division, but the teams hopes for the season rest squarely on Roethlisberger's left knee.
Thats just my stance. Let me know your's in the comments below