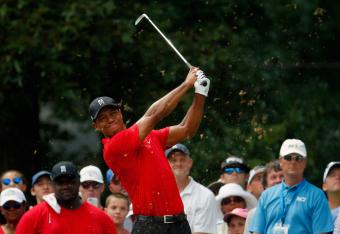 Tiger Woods entered the weekend tied for first place at the Wyndham Championship, he exited in a tie for 10th, his first top ten of the year, except it felt lacking of a Tiger Woods Sunday. Tiger winning this weekend and qualifying for the FedEx Playoffs would have been a victory not only for him, but the PGA as well. Viewership would have no doubt increased due to his presence and everyone would have had the chance to see if Tiger was really back or if this past weekend was him just playing against a field that held 7 of the top 25 in FedEx Cup standings only. Sadly we won't get the chance as his season is now over. This weekend showed promise, the old fiery Tiger seemed to be back, and instead on Sunday in his patented red shirt we saw him falter. He missed shots he should have made, was aggressive but not accurate, in simple terms he wasn't Tiger. That is the issue over the past few years, and the PGA has desperately tried to tab the new Tiger with guys like Rory McIlroy and Jordan Spieth to fill the void. They know without Tiger the ratings and interest will be lower because Tiger makes the average fan tune in.
You see whether other golfers admit it or not they need Tiger. He is the one that brings the crowd in no matter how well or bad he is playing (evidence by the galley that followed him all weekend). Even over these pasts two injury plagued, swing changing years the focus has been on Tiger. Yes, this year Jordan Spieth put his stamp on the season winning two majors and finishing in the top 4 of the others, but it still doesn't change golf fans views. Every time Spieth did something who was the first person the announcers compared it to...Tiger Woods.
Everything comes back to him whether they are talking about Jack Nicklaus or Arnold Palmer; somehow someway everything comes full circle back to Tiger Woods. It's not a bad thing, he has completely changed the game and the masses have realized they have taken that for granted over the past few years. He racked up 79 PGA Tour victories and 14 majors so fast that no one, including myself ever thought he would play like one of the average pros. The fact is he did and hasn't been the same Tiger for a while, but this weekend offered that glimmer of hope that maybe just maybe Tiger is on his way back to the top. Except now we must wait until April 4 at Augusta to see Tiger's game on the grand stage again, until that though he will fine-tune his swing and hopefully confidence in Europe and Asia. If anything at least we can hope he has a few more approach shots like this over the next few years:
In the end though people just wanted to see Tiger teeing off at the Barclays next weekend. I'm not going to lie I would have been watching, but now I'll just check in every once a in a while to see if Spieth or Rory is winning.